We would like to welcome FICS to the fraud combatting community!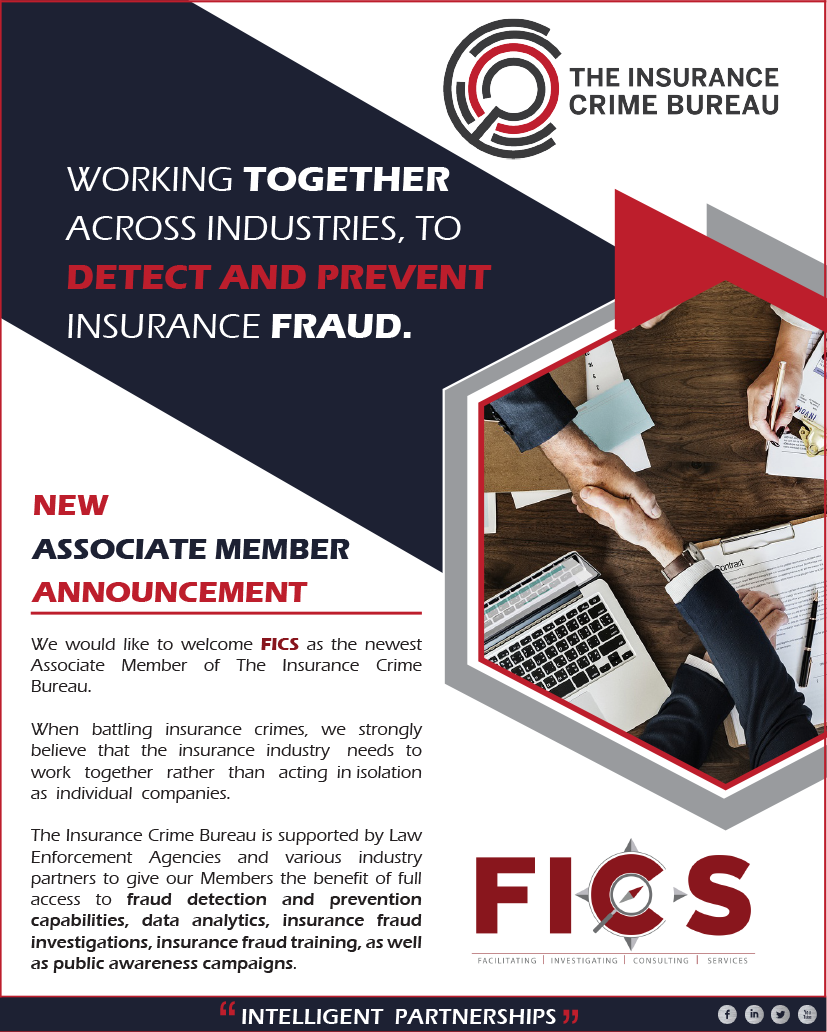 MEMBER BENEFITS
Focus on Insurance: The Insurance Crime Bureau is South Africa's only not-for-profit organisation that is able to support investigations, communication and information sharing between law enforcement agencies and the insurance industry.
Investigative Resources: While other companies may be able to identify fraud within a single company, The Insurance Crime Bureau's unique multi-carrier approach and technology allows us to more effectively detect organised crime rings that target multiple organisations simultaneously.
Task Force Coordination: By leading investigative task forces, we allow member companies to become actively involved with The Insurance Crime Bureau, law enforcement and prosecutors in operations that target large-scale fraud and theft cases.
Fraud Data Analytics: Through specialised software capabilities acquired through business analytics software provider, SAS, which enables us to analyse large data sets across multiple insurers, we are able to identify and inform member companies and the law enforcement community of suspicious trends, patterns, entities and syndicates faster.
Member Support: The Insurance Crime Bureau offers an on-demand enquiry service exclusive to members in order to assist in the improvement of claims fraud detection abilities.
Communication: The Insurance Crime Bureau ensures that we are in constant communication with members; whether it be through daily interactions, electronic news alerts that provide proactive fraud information, or our website which provides detailed updates on our activities.
Vehicle Identification Expertise: The Insurance Crime Bureau has set up a number of vehicle crime fighting initiatives in partnership with the SAPS to help members recover stolen vehicles. These initiatives include: pound clean ups, automated number plate recognition system, cloned vehicle operations and bait car operations.
Advocacy: Above all, The Insurance Crime Bureau aims to serve the interests of our members. We work regularly with members, trade groups, legislators and other anti-fraud organisation to devise effective anti-crime strategies that will ultimately benefit our members.