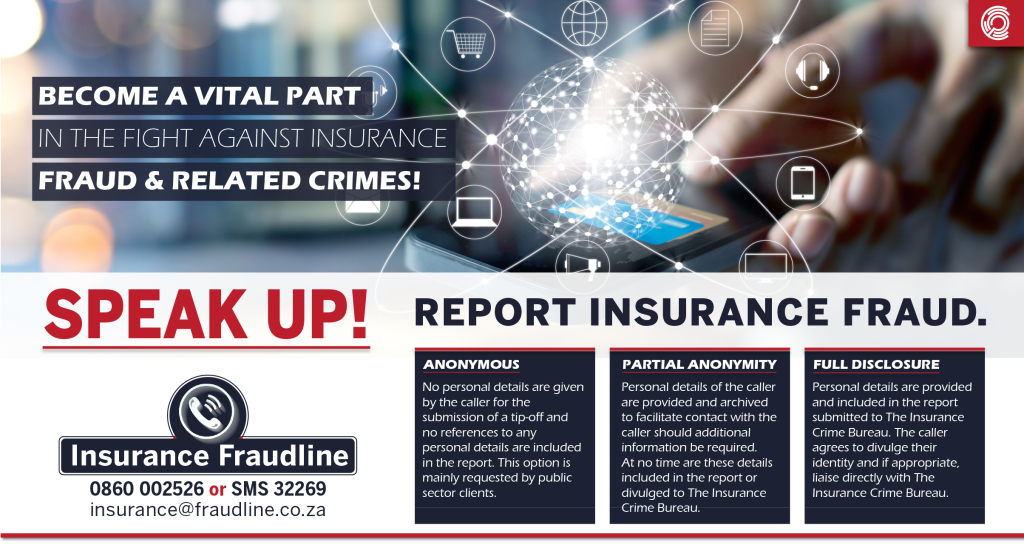 ---
As an honest consumer, it is often you who pays the price of insurance fraud through increased premiums. If you suspect that insurance fraud is being or has been committed or know of someone who has submitted a fraudulent insurance claim, it is your responsibility to speak up using our dedicated insurance fraud hotline!
How to Report a Fraud
You can report insurance fraud safely, easily and anonymously using the toll-free Insurance Fraudline
The Insurance Fraudline began as an industry initiative by the South African Insurance Association (SAIA) and is managed by Deloitte. The Fraudline was put into place to allow the general public, staff or anyone that wants to report fraudulent behaviour in the insurance sector to interact with the industry by phoning into an independent call centre, sending a fax or email or logging onto the Fraudline website and submitting a query, complaint or fraud report.
The Insurance Fraudline is funded by The Insurance Crime Bureau member companies and not only covers matters concerning the short term insurance industry, but also the Life and Broker industry as well.
The Fraudline has proven to be one of our more successful weapons in The Insurance Crime Bureau arsenal to address syndicated insurance fraud and crime and has already led to cases and successful investigations.
The Fraudline is managed by Deloitte who ensures the utmost confidentiality of the person reporting the fraud if they wish to remain anonymous.
Deloitte provides the caller with 3 levels of anonymity:
Full Disclosure: Personal details are provided and included in the report submitted to The Insurance Crime Bureau. The caller agrees to divulge their identity and if appropriate, liaise directly with The Insurance Crime Bureau where additional information is required.
Partial Anonymity: Personal details of the caller are provided and archived to facilitate contact with the caller should additional information be required. At no time are these details included in the report or divulged to The Insurance Crime Bureau.
Anonymous: No personal details are given by the caller for the submission of a tip-off and no references to any personal details are included in the report. This option is mainly requested by public sector clients.
To ensure the protection of callers, Deloitte does not invoke caller line identification.
For more information on how the Fraudline works, view our FAQs or view the Fraudline website
---
Stop. Think. Don't Get Scammed!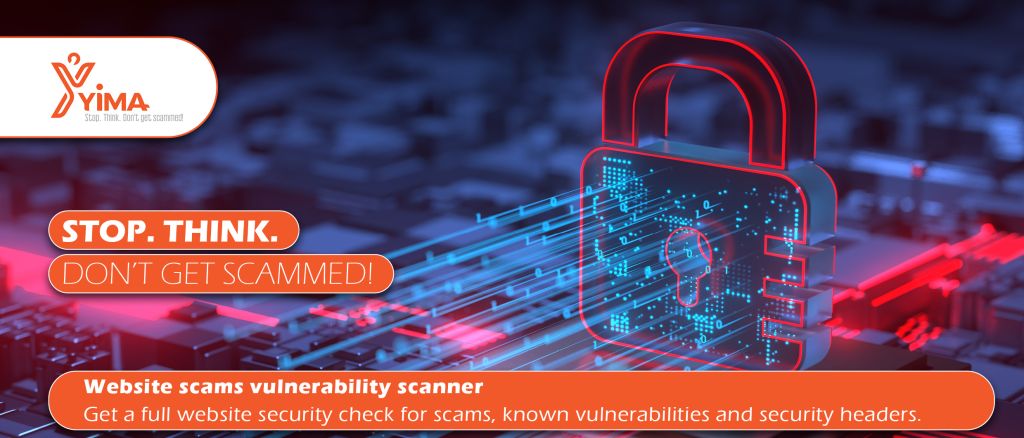 ---
The internet is a wonderful, revolutionary resource for every area of our lives, from entertainment, hobbies, sport and social media to learning and commerce. Lurking in the shadows or even in plain sight however, are scammers and hackers who want to access your data and device.
Knowing the risks, and scanning websites before visiting them, will help protect you from scams and cybercrime and make the net a safer space to enjoy.
YIMA is an online platform developed by the Southern African Fraud Prevention Service (SAFPS) that helps people and businesses to identify scams. This includes all kinds of fraudulent activities related to websites, social media, cell phones, online banking and online shopping.
The platform aims to create awareness about scams, raise alerts about new scam trends or security breaches and educate people about the different types of scams. It also provides special verification tools for checking suspicious websites including DNS scanners and Browser extensions, allowing users to report suspicious activity and scam incidents online.
Visit the YIMA website here: https://yima.org.za/