Criminals taken off our streets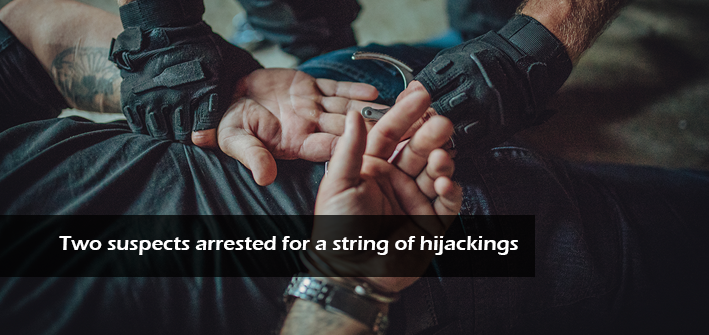 On Tuesday 16th November 2021, two suspects were arrested for a string of hijackings and armed robberies following a tipoff from one of our investigators.

Members of the Hawks' Tactical Operations Management Section with the assistance of the Insurance Crime Bureau, Crime Intelligence and other industry partners arrested two suspects in Lombardy East following an intelligence-driven operation.
Our investigator spotted a vehicle of interest with false registration plates in Lombardy East that was being used by a gang of armed men during hijackings and home invasions in the Gauteng suburbs and immediately alerted our partners in Law Enforcement. The SAPS intercepted the criminals when they entered a residential premises and proceeded to apprehend them.
Three firearms, house breaking implements, gloves, balaclavas, phones and stolen vehicles were found on the property. Preliminary investigation has linked the suspects to a number of hijackings and armed robberies and we do not rule out the possibility that these suspects will be linked to numerous other ongoing cases, with more arrests being made.
Congratulations to everyone involved in removing these criminals off our streets!